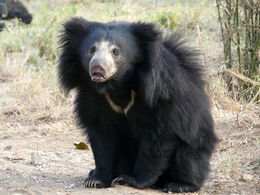 The 
sloth bear
 (
Melursus ursinus
), also known as the 
labiated bear
, is a 
nocturnal
insectivorous
bear
 species found wild within the Indian Subcontinent. The sloth bear evolved from ancestral 
brown bears
 during the Pleistocene and shares features found in insect-eating mammals through convergent evolution. The population isolated in Sri Lanka is considered a subspecies. Unlike brown and
black bears
, sloth bears have lankier builds, long, shaggy coats that form a mane around the face, long, sickle-shaped claws, and a specially adapted lower lip and palate used for sucking insects. Sloth bears breed during spring and early summer and give birth near the beginning of winter. They feed on
termites
,
honey bee
colonies, and fruits. Sloth bears sometimes attack humans who encroach on their territories. Historically, humans have drastically reduced their habitat and diminished their population by hunting them for food and products such as their bacula and claws. These bears have been used as performing pets due to their tameable nature. The species is listed as Vulnerable by the IUCN due to habitat loss and poaching.
Sloth bears feed predominantly on termites and ants and employ a well-evolved method to dig them out. Their long, curved claws are used for penetrating nest mounds, which can be rock-hard. Once they've opened a hole, they blow away excess dirt then noisily suck out the insects through a gap in their front teeth. To do so, they close their nostrils and use their lips like a vacuum nozzle. Beyond insects, sloth bears feast on a variety of fruit and flowers, including mango, fig, and ebony. They are also known to scale the occasional tree to knock down a bee honeycomb, which they will then enjoy on the ground below. It is this habit that's given rise to their nickname, honey bears.
Sloth bears are solitary creatures and generally nocturnal. They grow up to 6 feet (1.8 meters) in length, and males can weigh up to 310 pounds (140 kilograms), while females weigh up to 210 pounds (95 kilograms). When threatened they respond by standing on their hind legs and displaying their formidable foreclaws. They wear an extremely shaggy black coat and a cream-colored snout, and their chest is usually marked with a whitish "V" or "Y" design. After a six- to seven-month gestation period sloth bears normally give birth to a litter of two cubs in an underground den. The cubs will often ride on their mother's back, a unique trait among bears. Sloth bears are considered vulnerable animals. They are threatened by habitat loss and are sometimes captured for use in performances or hunted because of their aggressive behavior and destruction of crops.
Ad blocker interference detected!
Wikia is a free-to-use site that makes money from advertising. We have a modified experience for viewers using ad blockers

Wikia is not accessible if you've made further modifications. Remove the custom ad blocker rule(s) and the page will load as expected.