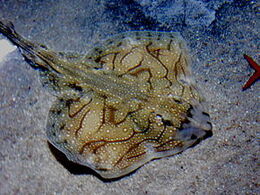 Skates
 are cartilaginous fish belonging to the family 
Rajidae
 in the superorder Batoidea of rays. More than 150 species have been described, in 17 genera. Softnose skates and pygmy skates were previously treated as subfamilies of Rajidae (Arhynchobatinae and Gurgesiellinae), but are now considered distinct families. Alternatively, the name "skate" is used to refer to the entire Rajiformes order (families Anacanthobatidae, Arhynchobatidae, Gurgesiellidae and Rajidae). Members of Rajidae are distinguished by their stiff snout and a rostrum that is not reduced.
Conservation
Edit
Skates have slow growth rates and, since they mature late, low reproductive rates. As a result, skates are vulnerable to overfishing and appear to have been overfished and are suffering reduced population levels in many parts of the world. The barndoor skate, Dipturus laevis, is currently listed with the IUCN as vulnerable due to being severely overfished.
In 2010, Greenpeace International added the barndoor skate, bottlenose skate, and maltese skate to its seafood red list. "The Greenpeace International seafood red list is a list of fish that are commonly sold in supermarkets around the world, and which have a very high risk of being sourced from unsustainable fisheries."