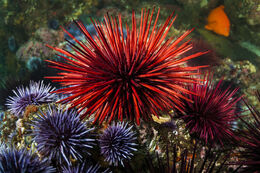 Sea urchins
 or 
urchins
, archaically called 
sea hedgehogs
, are small, spiny, globular animals that, with their close kin, such as 
sand dollars
, constitute the class 
Echinoidea
 of the echinoderm phylum. About 950 species of echinoids inhabit all oceans from the intertidal to 5000 m deep. The shell, or "test", of sea urchins is round and spiny, typically from 3 to 10 cm (1.2 to 3.9 in) across. Common colors include black and dull shades of green, olive, brown, purple, blue, and red. Sea urchins move slowly, feeding primarily on algae. 
Sea otters
, 
starfish
, 
wolf eels
, 
triggerfish
, and other predators hunt and feed on sea urchins. Their roe is a delicacy in many cuisines. The name "urchin" is an old word for 
hedgehog
, which sea urchins resemble.
Sea urchins also have little claw-like structure among their spines which the sea urchin uses for protection. These structures (known as pedicellarines) are small stinging structures that are not only used for defence and obtaining food, but are also vital in keeping the body of the sea urchin clean. The mouth of the sea urchin (known as the Aristotle's lantern), is found in the middle on the underside of the sea urchin's body and has five tooth-like plates for feeding. The anus of the sea urchin is located on the top of the body. As with other echinoderms, sea urchins do not have a brain and instead rely on their water-vascular system which is like a circulatory system and comprises of water-filled channels that run through the body of the sea urchin.
Sea urchins spawn during the spring, and the female sea urchin releases millions of tiny, jelly-coated eggs into the water that are then fertilised by the sperm of the male sea urchin. The tiny sea urchin eggs become part of the plankton and the sea urchin babies (larvae) do not hatch for several months. The sea urchin young will not become large enough to retreat from the plankton and down to the ocean floor until they are between 2 and 5 years old. Due to dredging on the ocean floor and pollution in the water, the sea urchin populations are declining and the sea urchin and today thought to be threatened with extinction.
Ad blocker interference detected!
Wikia is a free-to-use site that makes money from advertising. We have a modified experience for viewers using ad blockers

Wikia is not accessible if you've made further modifications. Remove the custom ad blocker rule(s) and the page will load as expected.