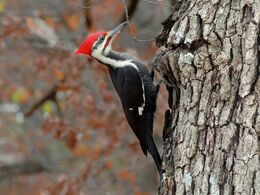 The Pileated Woodpecker is one of the biggest, most striking forest birds on the continent. It's nearly the size of a crow, black with bold white stripes down the neck and a flaming-red crest. Look (and listen) for Pileated Woodpeckers whacking at dead trees and fallen logs in search of their main prey, carpenter ants, leaving unique rectangular holes in the wood. The nest holes these birds make offer crucial shelter to many species including swifts, owls, ducks, bats, and pine martens.
Identification
Edit
Size & Shape Edit
The Pileated Woodpecker is a very large woodpecker with a long neck and a triangular crest that sweeps off the back of the head. The bill is long and chisel-like, about the length of the head. In flight, the wings are broad and the bird can seem crowlike.
Color Pattern Edit
Pileated Woodpeckers are mostly black with white stripes on the face and neck and a flaming-red crest. Males have a red stripe on the cheek. In flight, the bird reveals extensive white underwings and small white crescents on the upper side, at the bases of the primaries.
Behavior
Edit
Pileated Woodpeckers drill distinctive rectangular-shaped holes in rotten wood to get at carpenter ants and other insects. They are loud birds with whinnying calls. They also drum on dead trees in a deep, slow, rolling pattern, and even the heavy chopping sound of foraging carries well. Their flight undulates like other woodpeckers, which helps separate them from a crow's straight flight path. 
Pileated Woodpeckers are forest birds that require large, standing dead trees and downed wood. Forests can be evergreen, deciduous, or mixed and are often old, particularly in the West. In the East they live in young forests as well and may even be seen in partially wooded suburbs and backyards.
Similar Species
Edit
Pileated Woodpeckers are such large, striking birds that they're hard to confuse with other species. They are most similar to the Ivory-billed Woodpecker, which is now extremely rare or extinct and was only ever known from swamps of the Southeast. For information on how to distinguish the two species. The Red-headed Woodpecker is smaller with a shorter neck, an entirely red head, and large white patches on the trailing edge of the wing. At distance, in flight, American Crows flap steadily instead of with the impulsive, bounding motion of a Pileated Woodpecker, though crows show no white in the wing.
Ad blocker interference detected!
Wikia is a free-to-use site that makes money from advertising. We have a modified experience for viewers using ad blockers

Wikia is not accessible if you've made further modifications. Remove the custom ad blocker rule(s) and the page will load as expected.