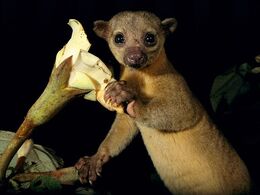 Kinkajous live in the tropical forests of Central and South America, where they spend most of their time in the trees. They are able to turn their feet backwards to run easily in either direction along branches or up and down trunks. The kinkajou also has a prehensile (gripping) tail that it uses much like another arm. Kinkajous often hang from this incredible tail, which also aids their balance and serves as a cozy blanket while the animal sleeps high in the canopy. Though many of its features and traits sound like those of a primate, the kinkajou is actually related to the
raccoon
.
An adult kinkajou weighs 1.4–4.6 kg (3–10 lb). The adult body length is 40–60 cm (16–24 in); in addition to body length, the tail length is 40–60 cm (16–24 in). The kinkajou's woolly fur consists of an outer coat of gold (or brownish-gray) overlapping a gray undercoat. It has large eyes and small ears. It also has short legs with five toes on each foot and sharp claws.
Kinkajous are sometimes called honey bears because they raid bees' nests. They use their long, skinny tongues to slurp honey from a hive, and also to remove insects like termites from their nests. Kinkajous also eat fruit and small mammals, which they snare with their nimble front paws and sharp claws. They roam and eat at night, and return each morning to sleep in previously used tree holes.
Kinkajous form treetop groups and share social interactions such as reciprocal grooming. They are vocal animals—though seldom seen, they are often heard screeching and barking in the tropical forest canopy. Female kinkajous give birth to one offspring in spring or summer. The baby is born with its eyes shut and cannot see for a month. It develops quickly, however, and by the end of the second month, it is already able to hang upside down from its tail.
Ad blocker interference detected!
Wikia is a free-to-use site that makes money from advertising. We have a modified experience for viewers using ad blockers

Wikia is not accessible if you've made further modifications. Remove the custom ad blocker rule(s) and the page will load as expected.