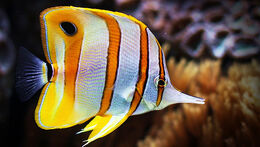 Butterflyfish, with their amazing array of colors and patterns, are among the most common sights on reefs throughout the world.Although some species are dull-colored, most wear intricate patterns with striking backgrounds of blue, red, orange, or yellow. Many have dark bands across their eyes and round, eye-like dots on their flanks to confuse predators as to which end to strike and in which direction they're likely to flee.
There are about 114 species of butterflyfish. They have thin, disk-shaped bodies that closely resemble their equally recognizable cousins, the angelfish. They spend their days tirelessly pecking at coral and rock formations with their long, thin snouts in search of coral polyps, worms, and other small invertebrates. Some butterflyfish species travel in small schools, although many are solitary until they find a partner, with whom they may mate for life.
Their coloration also makes them popular aquarium fish. However, most species feed on coral polyps and sea anemones. Balancing the relative populations of prey and predator is complex, leading hobby aquarists to focus on the few generalists and specialist zooplankton feeders.
Butterflyfishes are pelagic spawners; that is, they release many buoyant eggs into the water, which become part of the plankton, floating with the currents until hatching. The fry go through a tholichthys stage, wherein the body of the postlarval fish is covered in large, bony plates extending from the head. They lose their bony plates as they mature. Only one other family of fish, the scats (Scatophagidae) express such an armored stage.
Ad blocker interference detected!
Wikia is a free-to-use site that makes money from advertising. We have a modified experience for viewers using ad blockers

Wikia is not accessible if you've made further modifications. Remove the custom ad blocker rule(s) and the page will load as expected.